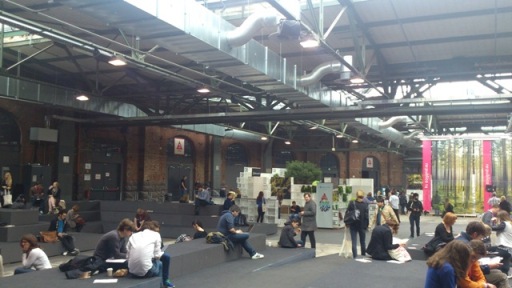 (Foto: Denise Brauch Lizenz: CC-BY)
Nun ist sie auch schon wieder vorbei, die Re:publica 2014. Aber nach der Re:publica ist ja bekanntlich vor der Re:publica und die Zeit bis dahin geht mitunter sehr schnell vorbei. Ehe man sich versieht, ist sie da – die Re:publica 2015. Auch dann werden sicher wieder viele Neu-Re:publicaner dabei sein und sich fragen, was man beachten sollte, damit nicht irgendwelche Kleinigkeiten die Freude trüben. Damit das nicht passiert, gebe ich euch im folgenden ein paar Tipps.
Ich habe in diesem Jahr die Re:publica erstmalig besucht und viele Eindrücke gewonnen, nette Menschen getroffen, interessante und spannende Vorträge / Workshops besucht bzw. gehört und neue Kontakte geknüpft. Als Re:publica-Neuling habe ich mir am Anfang, genau wie ihr, viele Fragen gestellt, bin letztendlich aber doch ziemlich unvorbereitet dort aufgeschlagen. Ihr braucht das nicht! Damit ihr euch schon heute auf die "Umweltbedingungen", Sitten, Gebräuche und Gepflogenheiten auf der Re:publica 2015 einstellen könnt, sind hier meine Top 5 der hilfreichsten Tipps:
1. Einlass
Die Entscheidungen fangen bereits am Eingang an. Badge oder nicht?
(Foto:re:publica 2014 / flickr.com, Lizenz: CC-BY-SA )
Tipp – Auf jeden Fall Badge! Überlegt euch schon bevor ihr dran seid, was auf eurem Badge stehen soll. Name, Twittername, Firmenname und / oder Blog? Alles möglich.
2. Technik
Die Re:publica bietet kostenfreies WLAN an und da es ja eine Konferenz für die Online affinen ist, kommuniziert man hier vorwiegend online. Hauptmedium ist Twitter. So hatte Johnny Haeusler eine Session im Angebot, wo man mittels Tweet gevotet und so den Vortrag in gewisser Weise mitbestimmt hat. Heißt also: euer Smartphone / Tablet wird glühen und, leider, ruck zuck ist der Akku leer. Dann heißt es: nachladen. Nur wie?
Tipp – Zweitakku oder Akkupack mitbringen
So seid ihr flexibel und könnt euch auf die Sessions oder das Netzwerken konzentrieren.
Falls ihr nicht die Möglichkeiten habt oder ihr kein Geld investieren wollt nutzt einen der folgenden Tipps .
Tipp – Seid schnell am Simyo Stand
Am Simyostand wurden dieses Jahr gegen Pfand (z. B. Führerschein) Akkupacks ausgegeben die dann den ganzen Tag über genutzt werden konnten. Nachteil: Man muss sie abends wiederbringen und am nächsten Tag erneut ausleihen. An das Zurückbringen wird man notfalls per Twitter erinnert.
Tipp – langes Ladekabel oder 3er-Steckdose dabei haben
Wenn man auch das nicht machen möchte, bleibt noch der Weg sein Smartphone / Tablet an den vorhandenen Mehrfachsteckdosen zu laden. In diesem Jahr waren diese ausreichend vorhanden so dass das Laden kein Problem darstellte. Ein Problem war für mich aber mein relativ kurzes Ladekabel. Solltet ihr auch davon betroffen sein, empfiehlt sich zumindest die Investition in ein längeres Kabel oder ihr bringt euch eine 3er Steckdosenleiste mit, die euch dann noch einen gewissen Spielraum verschafft und gleichzeitig dafür sorgt, dass ihr bei besetzten Steckdosenleisten gerne noch einen Steckplatz erhalten werdet.
Kennzeichnet eure 3er-Steckdose mit eurem Twitternamen. So geht diese nicht verloren.
3. Sessions
Informiert euch vor Beginn welche Sessions anstehen. Druckt euch den Sessionplan aus und markiert euch die Sessions, die ihr sehen wollt. So habt ihr immer ein Nachschlagewerk dabei und könnt auch spontan auf andere Sessions ausweichen.
Tipp – Faltplan
Lasst euch am Eingang das Programm für den aktuellen Tag geben. Dieser Faltplan hat eine praktische Größe und enthält weitere Infos wie Sponsoren, das Side Program, Lageplan, Öffnungszeiten und die Partys in den Bars.
Tipp – Apps
Wie überall gibt es auch für die Re:publica Apps, die euch bei der Sessionplanung unterstützen. Ladet euch die jeweilige App für Android oder iOS herunter. So seid ihr immer up to date, da die Apps in der Regel aktualisiert werden und so stets den aktuellen Stand repräsentieren. Es empfiehlt sich auch den Twitterkanal der Re:publica im Auge zu behalten, um Verschiebungen oder gar Absagen von Sessions rechtzeitig zu erfahren!
Tipp – Sessiontipps
Ein Muss ist Sascha Lobo, der Netzaktivist. Weiterhin empfehlenswert sind die Sessions der Gründer der Re:publica wie beispielsweise Johnny & Tanja Haeusler oder auch Markus Beckedahl und Andreas Gebhard. Wenn ihr früh genug da seid, empfiehlt sich zur Einstimmung immer die Willkommenssession.
4. Kontakte knüpfen
Scheut euch nicht, die Re:publica zum Netzwerken zu nutzen. Fragt z. B. bei Twitter nach, wer sich gerne mit euch auf einen Kaffee verabreden würde oder fragt gezielt bei den Leuten an, denen ihr folgt und mit denen ihr euch gerne einmal treffen würdet. Auch die Speaker der Re:publica sind offen für persönliche Treffen. Traut euch!
Tipp – Visitenkarten
Auch auf der Re:publica werden noch Visitenkarten getauscht. MOO hatte in diesem Jahr einen Stand auf der Re:publica an dem die bestellten Visitenkarten abgeholt werden konnten. So verbindet ihr gleich zwei nützliche Dinge miteinander.
5. Dresscode
Auf der Re:publica gilt der Dresscode: zieh an was dir gefällt und was bequem ist. Es sollte so gewählt sein, dass du im Zweifel etwas an-/ausziehen kannst. Denn die Re:publica findet zwar zum großen Teil drinnen statt, jedoch sind die Temperaturen in den einzelnen Stages sehr unterschiedlich und meist eher kühl. Auch wechselt man gerne mal in den Innenhof um frische Luft zu tanken.
Und zu guter Letzt gilt: Habt Spaß, lasst euch nicht von den Sessions stressen und nehmt mit, was für euch wichtig ist. Wenn es für euch wichtig ist, so viele Sessions wie nur möglich anzuschauen, dann tut das. Wenn ihr alles etwas entspannter angehen lassen wollt, dann ist auch das richtig und gut. Die Stimmung auf der Re:publica ist total nett, offen und entspannt. Da verbietet sich Stress fast von selbst.
Ich hatte auf meiner ersten Re:publica viel Spaß und habe beispielsweise mein Statement zu Off-/Online am Stand von (OFFTIME) & Simyo abgegeben:
(Foto: ( OFFTIME ) / Simyo / flickr.com, Lizenz: CC-BY-SA )
Oder ein Selfie gemacht um beim Gewinnspiel von T3N vorne mit dabei zu sein:
@t3n Me on #rp14 Into the wild 🙂 pic.twitter.com/jlVoyoUPgl

— Denise Brauch (@DeniseBrauch) 8. Mai 2014
Seid einfach ihr selbst und findet den richtigen Grad zwischen Wissen mitnehmen, Spaß haben und Kontakte knüpfen. Ich wünsche euch heute schon viel Spaß. Lasst gerne einen kurzen Kommentar da, wenn ihr noch mehr Tipps habt oder euch meine Tipps geholfen haben.